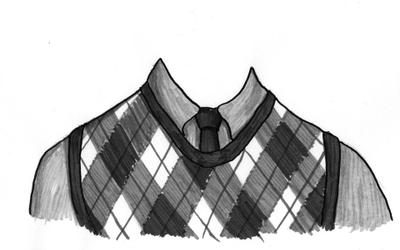 I cannot be preppy.
I was not born in Philadelphia.
I did not attend boarding school.
I went to a public university. In the Southeast.
I did not grow up in Made in America, LL Bean hand-me-downs.
I occasionally shop at J. Crew (which is not preppy).
I wear slim-fit chinos and shirts, which are also not preppy.
I don't remember a time when Brooks Brothers was American-owned and I can't tell you about how great Orvis used to be or why the Norwegian sweaters were better when they were 20% rayon or how the only good camp moccasins are made in Maine and how outsourcing has ruined American clothing.
You see, I like traditional American clothing, the sort once worn only by Ivy-Leaguers and prep schoolers. My fashion role models – at least as far as coats and ties are concerned – start with William F. Buckley and end with George Will. On a wild day, I want to look like PJ O'Rourke. But no matter how hard I try – no matter how crisply my shirt is ironed or how rumpled the legs of my chinos – I can never be a true prep. Because the rules of preppiness are such that you almost have to be born into it – your father handed down his J. Press blazers or dear mother recalls how nice Talbots used to be or you learned the ropes from your prep school mates in New Hampshire. Instead, you may well find yourself on the outside looking in.
And in this respect, preppiness – for all its joys and triumphs – is contra the Gospel of Christ. I can never be a true prep. Ever. No matter how hard I try, there's something in my DNA that pushes me away from it. I want to wear jeans. I wear t-shirts. Some of my shirts don't have a perfect collar roll. It goes on and on. (I'm Episcopalian, though, so at least that counts for something).
And it's much the same way with my faith. Oh, I have faith all right, but it is so very, very fragile. And my vestiges of faith – like my little hints of preppiness – are fleeting things that come and go, drifting with the wind like the fading grass of the Psalmist or the horse and rider that Tolkien lamented. And so thank God – no, seriously – THANK GOD – that my faith, unlike my preppiness – is entirely not of my own making. I did not create it or invent it. I do not sustain it. I did not even choose it. It was authored and perfected and it will be finished by Christ Jesus. (See Hebrews 12)
That is the message of Good Friday. It is finished. Whatever your choice in boat shoes or khakis, whatever the stripes on your tie or the critters on your trousers…it is finished. The end and beginning of who you are is at Calvary. And in the redemption of our sin and forgiveness of our guilt we are known by God and then, perhaps imperfectly, by one another.
Next up…the Gospel of Prep.  That's right, y'all.  There's grace in those Weejuns.